---
The "East" wing of the abbey
Urgent restoration and response to priority needs
Accidentally destroyed in the 19th century, the end of this building, of Maurist architecture, must imperatively be consolidated. The choice was made to extend the building to create new essential spaces…
With your help,

this large-scale project could be carried out in successive stages, in order to create two major installations
A library will be created to house and preserve in better conditions the rich collection of nearly 200,000 works. Composed of old manuscripts and rare books, but also works on theology, exegesis, patrology, scholasticism, secular sciences, fine arts, French or foreign literature, history of religions, philosophy , history… the library of Saint-Wandrille is an invaluable treasure which must be preserved, in order to be able to transmit to future generations the centuries-old wisdom of the monks.
Examples of rare manuscripts: Processional de Silos from the 14th century, Breviary of the Holy Sepulcher 15th century. (loaned to the Louvre for an exhibition), four 14th century Ambrosian antiphonaries, an important collection on the history of Normandy …
A new, more modern and functional infirmary will be fitted out in this new building to ensure better care for our elderly brothers and to enable them to end their life in the monastery. The care is provided by the monks.
This infirmary will be served by an elevator, so that the elderly brothers can participate as much as possible in the life of the community.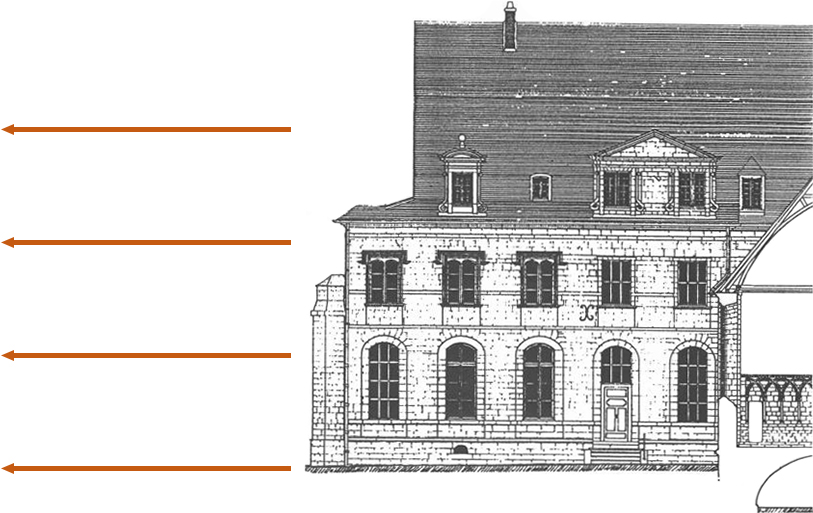 An architectural challenge

An exciting project that will be long-lasting and leave a lot of room for creativity.
Several options are still being studied: identical restitution by referring to all the copious documentation on Maurist architecture or a quality contemporary creation using the original volumes and harmonizing with the old buildings … < / p>