Build a reception area for groups
As it is place where one seeks God, the abbey is also a place of welcome and renewal open to anyone wishing to deepen their faith, take a step back, take a break… The Saint-Wandrille Abbey has different lodgings to receive guests individually. But the capacities of these buildings are too small to accommodate groups over several days. The Saint-Jacques hotel, built a short distance from the abbey, will meet this ever-growing demand.
Thanks to the first donations, the works were able to begin,
With your help,
it will be possible to proceed to the construction and the fitting out of this building.
In respect of the environment
The proximity of the listed buildings of the monastery presents a real challenge for this new hotel and we have taken special care in the construction. We have chosen noble materials: half-timbered frames, slate roofs, limestone, lime plaster … Quality and long-lasting, all of them are part of sustainable development. The local style recalls that of the nearby village.
The materials and products used indoors, for floor, wall and ceiling coverings will have an environmental label such as NF environment or European Ecolabel.
Control of energy costs and maintenance:
Geothermal heating with probes
Hygienic ventilation with installation of very low consumption extraction units
E2C Certification
We only initiate the successive stages when we have a reasonable share of funding
The construction of the chapel Interior design of buildings The interior layout of the chapel The purchase of various furniture and equipment Outdoor landscaping: gardens and car parks
The roof of the frame of the small building is moving forward.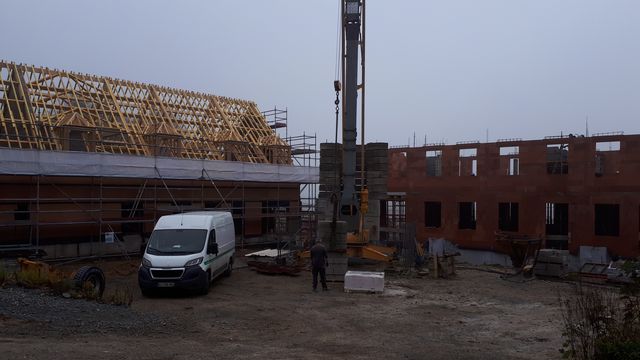 The framework of the small building is finished, the roofers will arrive. The first floor of the main building is almost finished. On the leftmost part of this building will be installed half-timbering, currently under construction.
October 2020
The walls go up
October 2020
The ground floors
The half-timbering of the small building.
The walls of the ground floor and the garden level of the main building.
The walls of the ground floor of the main building.
September 2020 The walls go up
May 2020
Layout of foundations
Earthworks for the main building.
March 2020 Arrival of the crane
The crane is in place to start the foundations.
February 2020 Installation of the site
The bitumen is now laid and the base installed.
December 2019 GEOTHERMAL DRILLS
Eight geothermal boreholes were drilled 150 m deep to provide 80% free natural energy.