Saint-Wandrille,
the original
The first beer to come out of the brewery in 2016, made like all the others within the monastery by a team of brothers.
This well-malted amber-blonde beer, 6.5% ABV, will appeal to lovers of well-balanced beers. On the palate, it gradually develops a hoppy bitterness that grows in intensity, accompanied by notes of dried fruit, caramel and a hint of licorice. The lingering bitterness does not, however, overshadow the fruity character and toasted malt.
It goes well with melon, charcuterie, poultry, pork, spicy dishes, Norman cheeses such as "Pavé d'Auge", "P'tit havrais", "Pont l'évêque (jeune)" and abbey cheeses: "Tomme des Pyrénées" from Donezan Abbey, "Timanoix" from Timadeuc Abbey, "Petit Trappe" from La Coudre Abbey, "Tomme" from Randol Abbey.
As an aperitif
Saint-Wandrille Kir: a touch of crème de cassis, topped up with beer.
la Dame Blanche: 2cl of whisky and 25cl of beer.
Sicera humolone,
the refreshing
Refreshing and light, this 5% ABV beer is best drunk chilled. Highly hopped, it will appeal to IPA lovers.
The nose is fresh and predominantly hoppy, with notes of citrus and yellow fruit. On the palate, the attack is fresh, with lime and other citrus fruits stimulated by a strong sparkle. The body is light, thirst-quenching, with flavors of yellow plum, accompanied by citrus, while bitterness develops in the background to finish the sip. The long finish is increasingly marked by bitterness, making this beer very thirst-quenching
It goes well with raw vegetables, grapefruit, fish and seafood, fruit salads and fruit cakes.
The name of this beer comes from a monastery manuscript. The Abbot of the time, Saint Anségise (+ 833), requested that the brothers' table be stocked with Sicera humolone, literally "fermented hop beverage". Interesting evidence of the use of hops as early as the 9th century.
As an aperitif, it can be served plain or with a slice of lemon.
Hortus deliciarum,
with garden hop
Literally "garden of delights".
Brewed at the end of September, when the hops are harvested, this lager was designed in collaboration with the O'Clock brewery to showcase this plant, four of which grow in the monastery garden. Used as soon as harvested, these hops are not dried before use, giving this beer a fresh, green character.
Due to the quantity of fresh hops available, this beer is a limited series, brewed only once a year and available at the end of November.
It was named after an encyclopedia written between 1159 and 1175 by the nuns of Mont Saint-Odile, under the direction of Herrade de Landsberg.
Scottici Generis,
the comforting
Comforting and austere, this intensely black beer will share with you the longing for Ireland so dear to our founder. Indeed, St. Wandrille, in his search for God, planned to go to Ireland to study under St. Columban, described by one of his biographers as scottici generis (of Irish origin).
At 7% ABV, this beer is neither a stout nor a porter. Combining harshness and mellowness in an original way, it's like a path through life, with its ups and downs. Its slightly astringent finish gives a taste of "reviens-y" ("taste anew"), because life is beautiful! Roasted on the attack, it develops a more discreet mellowness in the background, with hints of cocoa and milk chocolate, interspersed with notes of slightly acid red fruit. The slightly astringent finish is thirst-quenching, followed by a long persistence of roasted and pungent notes.
It should be enjoyed at around 12° C, to savor its deep aromas.
It goes well with game, chocolate or red fruit cakes.
It's best enjoyed by the fireside.
You'll find our beers, of course, at the Saint-Wandrille Abbey Boutique and on the Abbey's website
But also in many stores in monasteries and pilgrimage sites.
The stores of Artisanat Monastique
Religious bookshops, delicatessens and other stores.
Wine merchants from Normandy and other regions.
In January and April, two brothers will be training at the agricultural college of Douai.
They start brewing 20-liter batches, both to get the hang of it and to prepare an original recipe.
Visits to other breweries, which are always warmly welcomed, provide a wealth of information, both for choosing equipment and sharing experiences.
During this time, we also had to think about the type of bottle: 25, 33, 50, 75 cl? A label committee was also set up to determine the bottle's appearance.
---
June 7, 2016 The first brew
Now that the equipment is operational, it's time to test the recipe patiently developed over the preceding months. We start with Luc, who supplied the equipment and shows us how it works.
Blessing of the brewery by Cardinal Marc Ouellet.
November 11, 2016:
the great test
Before inaugurating the brewery, we had to be sure of the quality of the recipe for our first beer. Gilbert Delos, a journalist of Bière Magazine came along, accompanied by Hervé Marziou, who had advised us throughout our trials, and Nicolas Rosa, our malt advisor.
Verdict: Delicious, even gourmand with a nice bitterness, but still intriguing. It's impossible to decide between the Belgian style for its fruity fullness and the British style (reminiscent of a bitter) for its bitterness and dry finish. The beginnings of a new French monastic style?
December 1st 2016: brewery inauguration.
On this day, we have invited our close collaborators, the mayor of our village and neighbouring towns, the Member of Parliament, the Archbishop of Rouen, the companies who worked on the brewery's construction and journalists from the press, radio and television.
A group of brothers continues to taste the beers to ensure quality follow-up. Then for summer 2017 we are preparing a white beer, Sicera humolone
September 17, 2019
First collaboration with O'Clock Brewing. They've come to brewAb horto amicisque which means "from the garden and from friends". Indeed, we brew it with hops from our own garden. We now call it Hortus deliciarum.
Hop harvesting
October 10, 2019
Here we are in Bois d'Arcy, at the O'Clock brewery. We make two brews.
A triple, the
Brothers in beer
and a bourbon barrel-aged stout,
Barrel Brothers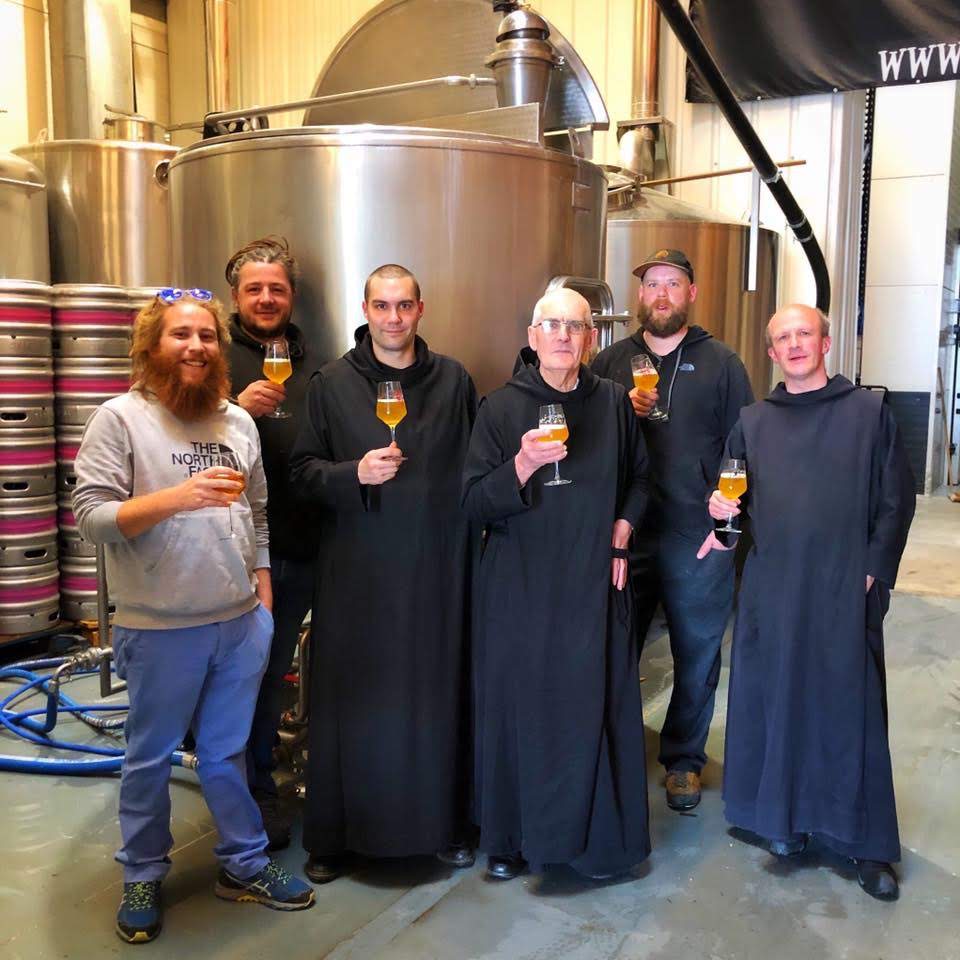 In January 2021, after lengthy trials, our black beer Scottici generis went on sale.